Our Services
Ultherapy is a non-surgical, non-invasive procedure that uses focused ultrasound to lift, tone and tighten loose skin on the brow, neck, chin and decolletage. It is the only non-invasive procedure cleared by the FDA to lift the skin of the brow, neck, chin and decolletage. As the treatment is non-invasive in nature, there is no downtime after the treatment. It stimulates fibroblast activity and new collagen formation, resulting in a tighter appearance of the skin.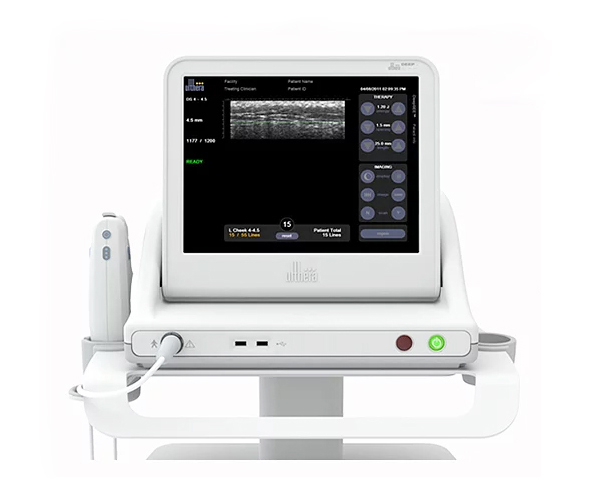 How is the Ultherapy procedure performed?
The face is cleansed and numbing cream is applied. Oral analgesia is usually prescribed 30 minutes prior to the commencement of the procedure. Facial marking may or may not be done depending on the individual practice of the doctor. Coupling gel is applied to the skin and microfocused ultrasound is applied to the Superficial Muscular Aponeurotic System, SMAS) under direct visualization, to produce skin contraction for lifting and stimulate collagen formation for long-term anti-aging effects.
How long does the Ultherapy procedure take?
The entire procedure can be completed in less than an hour.
Are there any side effects?
The Ultherapy procedure is generally safe in the hands of an experienced cosmetic practitioner. Possible common side effects include e.g. tenderness, redness, small welts, mild bruising, etc. These are usually mild and self-limiting and will resolve spontaneously after a short period of time.
What results can I expect and how long do I have to wait before I can see results?
The Ultherapy procedure is suitable for patients with mild to moderate degrees of skin laxity and sagging. Post-Ultherapy, there will be a very natural tightening and lifting of facial skin. As Ultherapy exerts its effects through the stimulation of fibroblast activity and neo-collagenesis, best results are observed after 3 to 6 months.