Our Services
A chemical peel involves the application of a chemical solution to the surface of the skin. The solution penetrates the skin layers and breaks up dead cells to carefully remove the outer layers of skin. This process stimulates the skin to renew itself, resulting in a healthier and more radiant complexion.
What are the different types of Chemical Peels?
There are three main types of peels depending on the chemical agent used and the amount of skin removed: superficial, medium-depth and deep peels. Our clinic offers the popular medium-depth Jessner's peel. The peeling agent contains three main ingredients: lactic and salicylic acids which help to remove dead skin cells, as well as resorcinol which assists in the treatment of acne or pimples.
How can Chemical Peels help your skin?
Chemical peels can be used to treat fine lines and wrinkles, scars, sun damage, pigmentation and acne. Although they are most commonly used on the face, chemical peels can also rejuvenate the skin on the back of the hands and the décolletage area, which can give away your age as much as your face.
Am I suitable for this treatment?
Patients with these conditions may not be suited for this procedure:
Chronic skin diseases such as psoriasis, eczema and rosacea
Sunburn
Active cold sores
Lupus
Isotretinoin use within the last six months
Severe asthma
Pregnancy
Dr Amy Wong will be able to assess you and advise if you can proceed with the chemical peel.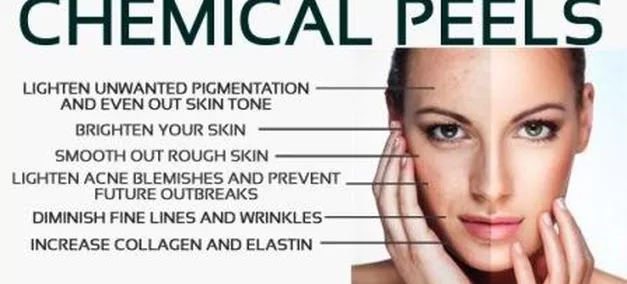 What can I expect during the treatment?
Your skin will be cleansed thoroughly before even layers of the peeling agent are applied to the treatment area. The peel will gradually set over a few minutes, and cool air is constantly directed onto the face for additional comfort. A moisturising sunblock is then applied to your skin at the end of the procedure.
How long does the treatment take?
As a Jessner's peel will only take 10 to 15 minutes to perform, it will fit easily into your busy schedule.
What are some of the possible side effects?
1. Patients usually experience a tingling, stinging sensation when the peeling agent is applied. However, this discomfort is often transient.
2. Mild redness and swelling of the skin, which is usually short-lived.
3. It is important to apply sunscreen regularly post-treatment, as pigmented areas may get darker temporarily.
What results should I expect and how long do they last?
Initially, your skin may feel tight and slightly sensitive. Natural light flaking of the skin usually starts between 3 to 5 days post-peel and will last for approximately 1 week. You can expect the treated area to have a light pink appearance akin to a mild sunburn – this will usually resolve over the next 1 to 2 weeks. When all the old, damaged skin has peeled away, you will be left with a more refreshed, glowing appearance.
The Jessner's peel can be repeated every 4 weeks until the desired effects are achieved. It is a convenient, safe and effective procedure to rejuvenate your skin.